SVG SDK: Convert, View & Render SVGs
Add SVG format capabilities to your document imaging applications.
SVG (Scalable Vector Graphics) is an image format based on XML for vector-based graphics. It is an open standard developed by the World Wide Web Consortium (W3C) since 1999. Ideal for the Web, it is supported by all major web browsers.
Decodes and renders SVG files, according to SVG 1.1 Second Edition specifications.
Reads and renders all three types of graphic objects: path, bitmap objects, and text.
Supports transformation, clipping paths, alpha masks, and filter effects (partially).
Handles bidirectional text (for composing a combination of English and Arabic text, for example).
Handles vertical text and text along a path.
Supports filling and outlining of graphic objects using solid colors, gradients, and patterns.
Supports markers: symbols that can appear at the vertices of a polygon, for example arrows.
Does not support animation.
Printing support.
SVG format viewer
The DocuVieware demo below shows how SVG format can be integrated in an existing content.
Convert your SVG document to PDF
How to use
Download and install GdPicture.NET package from here.
You will be able to find some compiled demo applications in
[Install directory]\Samples\Bin\
You will be able to find C#, VB.NET, Delphi, Visual FoxPro, HTML demo applications including source code in
[Install directory]\Samples\WinForm\
You will find other code snippets within the online reference guide found here
https://www.gdpicture.com/guides/gdpicture/
You can find some discussions about SVG and other formats in the dedicated section of our community forums located here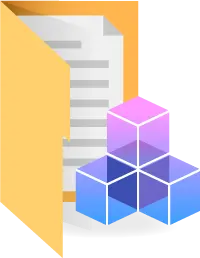 Check our other supported formats
Try GdPicture.NET Now!
60-day free trial