OCR SDK
GdPicture includes an Optical Character Recognition engine to develop any kind of application requiring OCR technology.
With GdPicture OCR SDK, put the power of more than 15 years of continuously improved technologies into your own application.
GdPicture OCR SDK
Based on a continuously improved technology, the GdPicture OCR engine provides features such as text recognition on a specific area of an image and the ability to create searchable PDF/A files (PDF-OCR) from scanned documents, images or existing PDF documents.
The GdPicture OCR engine offers built-in Multi-threading support, handles more than 100 languages (full list here) and can process more than 100 document formats.
OCR SDK with full Unicode support.
Multi-thread support (demo application included in the GdPicture.NET SDK package).
Character recognition confidence.
Retrieves character's location.
Retrieve font information (style, family…).
Retrieve paragraphs information (justification, alignment, bounding box…)
Output text.
Support for PDF/A OCR generation (PDF Image + hidden searchable text).
Can produce PDF & PDF/A with Unicode characters with very small sizes.
Supports more than 100 languages such as English, French, Italian, German, Spanish, Brazilian, Portuguese, Vietnamese, Chinese, Russian, Polish, Dutch, etc.
Can recognize only digits, only alpha or only "white listed" characters. Plus option to specify black list of characters.
OCR context support. Defines if the engine is processing a document, single word, single character, text block, vertical text etc.
Fast area processing.
Automatic document orientation detection.
Can detect paragraphs of the same document with different orientations.
Automatic skew correction.
Intelligent automatic image correction to increase OCR accuracy and speed.
Segmentation features to detect block, paragraphs, lines, words and characters.
Built-in multi-threaded engine for PDF/OCR creation.
Recognize and convert more than 100 formats to DOCX, HTML, PDF, and text files.
Any-CPU: available in 32-bit & 64-bit versions.
Can work in multi-thread applications.
And more than 100 other features…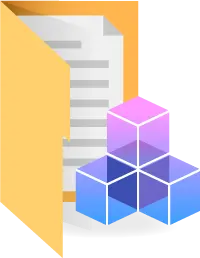 How to use the GdPicture.NET OCR SDK
Download and install GdPicture.NET package from here.
You will be able to find some compiled demo applications in
[Install directory]\Samples\Bin\
You will be able to find C# and VB.NET demo applications including source code in
[Install directory]\Samples\WinForm\
You will find other code snippets within the online reference guide found here
You can find some discussions about the GdPicture Tesseract OCR Plugin in the dedicated section of our community forums located here
Try GdPicture.NET Now!
60-day free trial