GdPicture.NET Version 11 and DocuVieware New Releases
---
Hi everyone,
The GdPicture Team wishes you all the best for 2015!
As some of you already noticed, the new version of GdPicture.NET (version 11) and our new HTML5 viewer and document management kit, DocuVieware, are officially released.
You've maybe noticed that our website looks a bit different too!
So let's sum up all that's new here:
GdPicture.NET Version 11

Our team worked on various improvements of the core engine in terms of speed, accuracy and memory usage.
All aspects of the toolkit have been enhanced: barcode recognition (1D and 2D), MICR reader, annotations…
New major features and improvements are also included in the following domains:
Document Imaging: improvement of several filters, of the auto deskew and the OMR engine, new automatic text inversion filter.
PDF: two new rasterizer engines available (WPF and Hybrid), MRC compression support, improvements of the text extraction and the digital signature support and more.
Printing: new print size option.
Thumbnail: asynchronous PDF page thumbnail generation, major speed improvement.
New user controls have been added: native WPF controls and our ASP.NEt WebControl, DocuVieware.
All the new features are now listed on their own dedicated page.
DocuVieware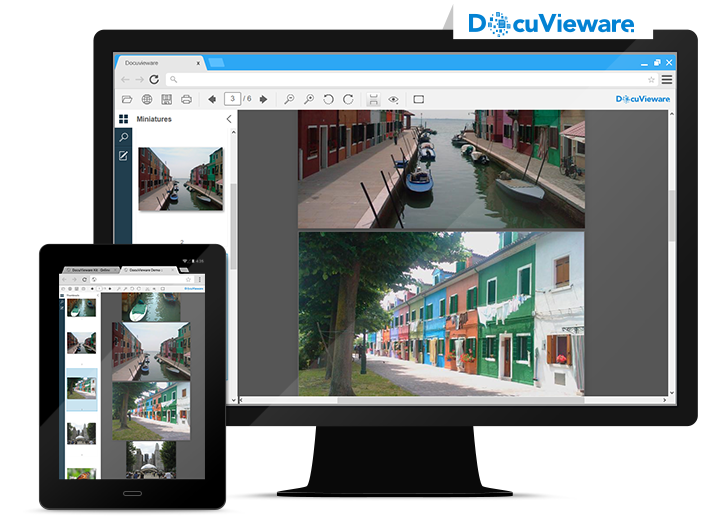 Our new product DocuVieware is a revolutionary HTML5 viewer and all-in-one document management kit, powered by GdPicture.NET.
DocuVieware allows you to view, annotate and manage any document, on any device and any browser through a fully customizable zero-footprint HTML5 Control. It supports more than 90 file formats, including PDF, TIFF and SVG. You can see what it does with our various demos.
The developer licenses are currently bundled with GdPicture.NET Document Imaging SDK v11 Ultimate Edition. For this product, server licenses are required.
New Customer Personal Space
With the creation of the new website we decided to include a new portal for customers, a protected personal space where all the purchase history is listed.
This way you know exactly what you own, when the purchased where made and all the information related to the maintenance contract, if applicable.
All people concerned by the free upgrade will find their new v11 key(s) in their personal space.
Free upgrades to GdPicture.NET version 11 are available for:
Customers under a maintenance contract.
Customers who bought their license(s) after July 1st 2014.
To activate your personal space, just click on "My Account" in the very top menu of the GdPicture website.
Be careful, the email used to access your account is the same than the one used to buy the licenses.
If you have any doubt or question, please contact us via our Quick Contact Form or our Helpdesk and we'll be happy to help.
Cheers!
The GdPicture Team
---
Tags: