First Edition of the PDF Day France: That's a Wrap!
---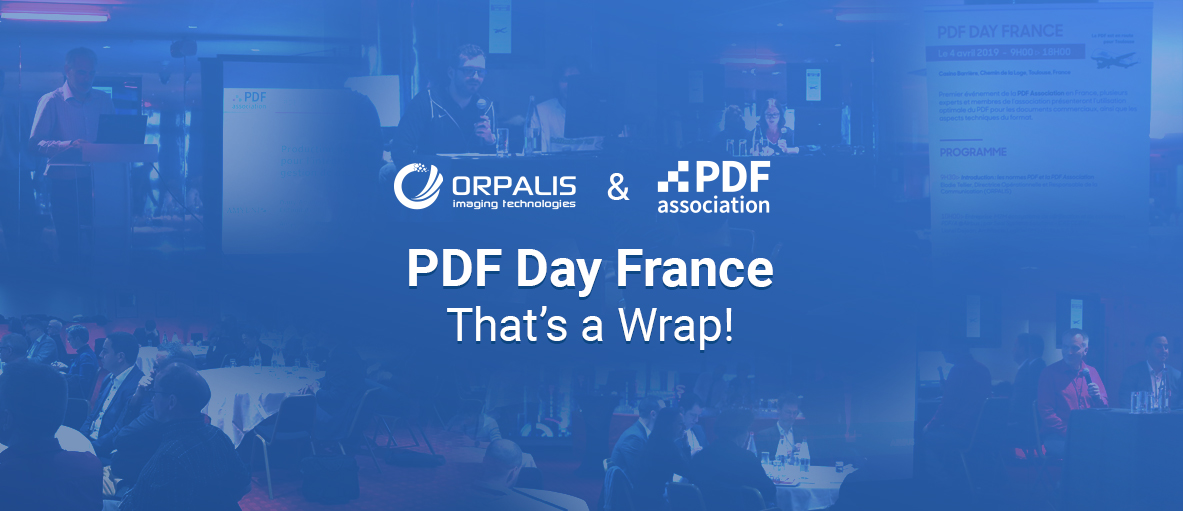 The first Edition of the PDF Day France took place in Toulouse on April 4th. Speakers from all over the world came to speak – en français – about various aspects of PDF technology.
Au programme, we had:
Elodie Tellier, COO and Communication Manager (ORPALIS)
PDF ISO standards and the PDF Association
Lionel Dejean, DMS architect, Airbus S.A.S., and Saïd Elmorabiti, SEAL Systems
Enterprise M2M PDF(/A) conversion & checking ecosystem @Airbus – Supported by SEAL Systems Solutions
Dany Amiouny, IT Director, Amyuni Technologies SARL
Production of well-structured PDFs to facilitate processing and integration into document management processes
Bernard Hauzeur, Ingénieur TIC, PDF Tools AG
Manage the quality of documents from capture to archiving
Loïc Carrère, CEO and CTO (ORPALIS)
Optimization of existing PDF files: issues, constraints, and methods
Gert Michiels, Product Manager, Foxit Europe GmbH
"Enterprise PDF Rendition" – What is this? And more importantly, what does it bring me?
David van Driessche, Chief Technology Officer, Four Pees, Executive Director, Ghent Workgroup
An introduction to accessible PDF documents and the PDF/UA standard
Patrick Gallot, Application Support Engineer, Developer Support, Datalogics, Inc.
A dive into PDF optimization
What we learned at the PDF Day France
There are numerous ISO standards for PDF
Everyone knows about PDF and PDF/A. however, there are some other standards that cover specific domains: printing and prepress with PDF/X and PDF/VT, engineering with PDF/E, and there is even an ISO for making PDFs accessible to people with disabilities (PDF/UA).
Accessible PDF is on the rise, administrations, companies, and contractors need to get ready.
You make a PDF accessible by tagging it correctly so it can be read by assistive technologies.
---
Tags: