PDF Days Europe 2018
---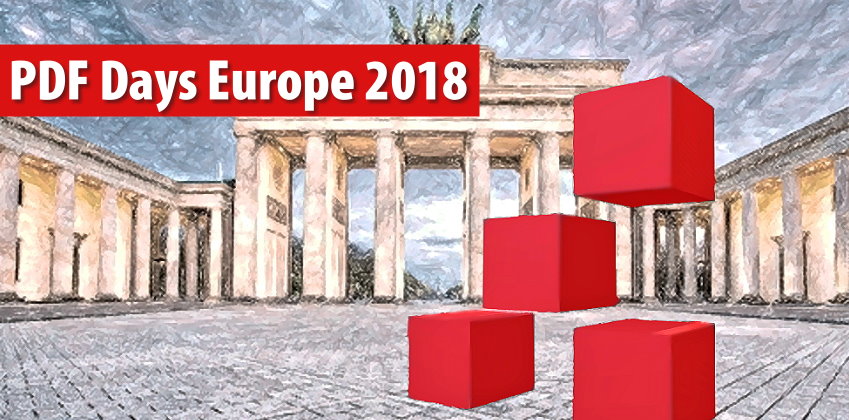 Hi everyone,
Like last year, we have had again a great opportunity to be a part of the PDF world on 14-16 May 2018 in Berlin, Germany. The main PDF event of the year is organized by the PDF Association – PDF Days Europe 2018.
The keynote of this conference was 25 years of PDF Format together with 10 years of PDF being ISO Standard. As a result, today  PDF 2.0 is the updated standard of PDF 1.7.
These two days have been offering us excellent options to meet our current partners as well as to find some potential new ones. We have been listening to PDF members with high respect and with a great willingness to learn news in this fascinating world.
The PDF Days' Agenda
The organizers prepared three thematic tracks for attendees to stay in touch with key-PDF features and abilities:
The "PDF for users!" track presented many practical solutions how to use PDF documents on a daily basis for business.
The "PDF for developers!" track taught engineers many technical details related to the new PDF 2.0 standard. The speakers made us work on signatures, security, encryption, tagging, and other important features.
The "PDF for marketers!" track gave us a tour of the many opportunities for PDF documents in the electronic document galaxy: create, access, print, share, archive… PDF can do it all!
What We Learned
We have uncovered PDF/UA possibilities.
We have learned how to properly tag PDF documents.
We have discovered PDFs in Blockchain and Open Data technologies.
We have been witnesses of the impressive PDF genesis during the last 25 years of the format's life.
It was amazing to listen directly to founders and co-founders of PDF. Useful networking has been a part of each coffee break, and never-ending discussions have been carried on the evening's party as well.
Finally, a panel discussion has been holding about the vision of a PDF future.
As a member of the PDF Association, it will be a pleasure for us to prepare and organize a PDF meeting next year in Toulouse for French-speaking companies. If you are interested in participating, please contact us.
At this moment we are already looking forward to the next year for PDF days 2019.
Stay tuned!
See you next time!
Gabriela
---
Tags: