LETRA: Redefining Public Education in Slovakia
---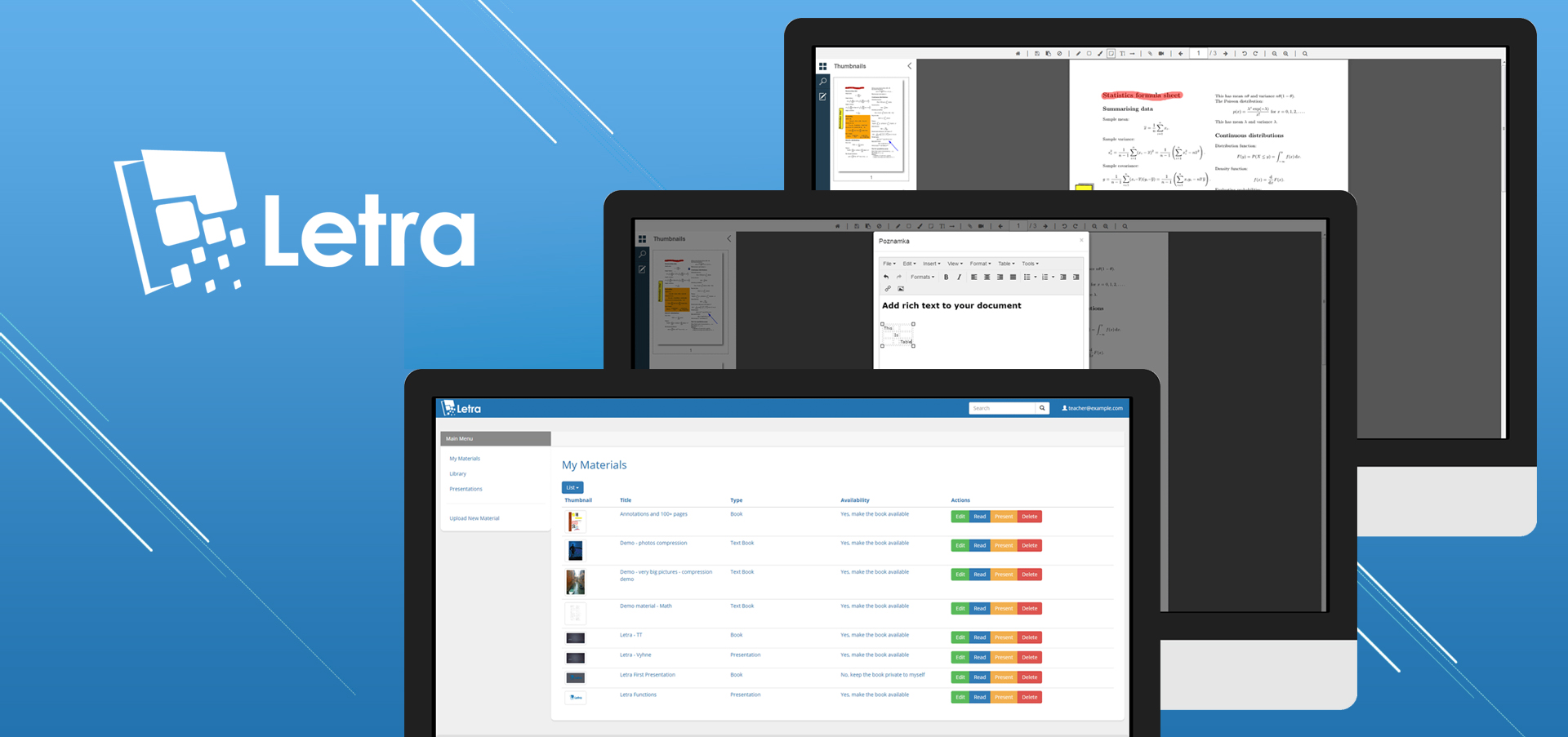 Hi Everyone,
Today on our blog, we are continuing our series of our customers' success stories.
After Swedish ALCOM and Canadian FileHold, we are happy to introduce you to LETRA. LETRA is a nonprofit organization based in Slovakia that develops applications to view, annotate, and share documents and presentations.
LETRA: Powerful Documents
LETRA is a non-profit organization run by five enthusiasts coming from diverse backgrounds. Its goal is to enhance online learning and education as a whole in Slovakia.
Started in 2010, it now offers a solution for online document processing, with a focus on detailed statistics about the document.
The Project: Giving Digital Materials to Every Student
It all started with an idea to create a tool for distributing textbooks and other class materials digitally.
The primary goal was to advance education in Slovakia by cutting studying costs and enabling university instructors to share their materials online.
The Challenge
Instructors often hesitate to share their materials because regular platforms offer little control over the uploaded documents.
Indeed, the details on how the document is used once it is uploaded were missing.
The Solution: Manage, Share, and Annotate with LETRA and DocuVieware
Based on DocuVieware HTML5 Viewer and Document Management Kit, LETRA developed an open source public application which allows:
Online document viewing.
Advanced annotations support.
Conversion to different formats.
Sharing capabilities.
Review statistics on activities performed on the document.
Benefits
The solution can be integrated into any Learning Management System (LMS).
Developers can find a free API to embed LETRA in their applications.
At the moment, a few universities use the tool with Moodle, but other LMS are yet to come.
An essential point is that LETRA can be integrated through Tin Can API (Experience API).
Tin Can redefines the approach to online learning. Its API integrates all types of educational resources available, like e-books, social media, mobile learning, virtual worlds, games, regular LMS, and many others.
You can learn more about the Experience API here.
Because it is available to anyone and easy to integrate with popular learning management systems, the LETRA solution contributes to a better learning experience.
What's Next?
LETRA is already popular with teachers and professors.
This fall, the Bratislava University of Economics will integrate the solution into its teaching process.
For Peter Fridrich, the co-founder of the company, making education available to anyone by spreading the use of online learning tools is so important that in the future, the organization will remain non-profit.
After expanding in Slovakia and neighboring countries, the team at LETRA plans to focus on a new project.
This time it will help Academics distributing their publications electronically.
You can learn more about LETRA on www.letra.io, and you can contact Peter at hello@letra.io.
If you want to know how DocuVieware can help your nonprofit organization, please contact us.
Depending on your project, we can provide nonprofit pricing.
Meanwhile, you can test DocuVieware – free of charge and with technical support included – for 60 days.
Cheers,
Dmitry
---
Tags: